I samarbeid med Boston University (BU) gir Gründerskolen deg muligheten til å jobbe og studere i den mest kjente universitetsbyen i USA og samtidig oppleve det yrende entreprenørskapsmiljøet der. Byens økonomi baserer seg på høyere utdanning, teknologi og forskning, og kommersialisering av disse.
Boston havner ofte ganske ufortjent i skyggen av San Francisco, men oppstartsmiljøet i Boston er veldig levende og Boston University beskriver det slik:
When you think about Boston, you think about history, education and culture. You recognize it as the birthplace of the American Revolution and America's largest college town. How its diverse neighboorhoods are connected by a public transportation system ranked #2 in the United Sates. But we think about INNOVATION!
With resources like MassChallenge, the largest accelerator in the world, Boston is a hub for innovation and technology. Entrepreneurs are able to connect at one of the 51 networking events per week and grow their startups by raising money from some of the biggest venture capital firms in the world. From Fintech to healthcare tech, innovation in Boston spans dozens of industries — drawing diverse talent from around the globe. It's also home to the largest Greentech accelerator in the world. And, it's ranked 5th among top startup ecosystems worldwide.
So the next time you think about Boston, you can think about the thousands of startups and entrepreneurs making it home.
Boston University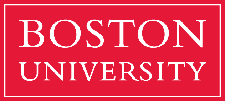 I Boston samarbeider Gründerskolen med Boston University (BU) som administrerer internshipene, har ansvar for det akademiske programmet og andre praktiske ting for studentene. BU har mer enn 30 000 studenter, og er det 4. største uavhengige universitetet i USA. Det anses som et av landets fremste forskningsuniversiteter.
Vil du vite mer om hvordan det er å delta på Gründerskolen i Boston? Les blogginnleggene fra tidligere studenter her!
Bilder fra Boston: